Philips LEDspot LV G53 AR111 12V 15W 930 40D (MASTER) | Warm White - Best Colour Rendering - Dimmable - Replaces 75W
Sold out. See alternative product
See now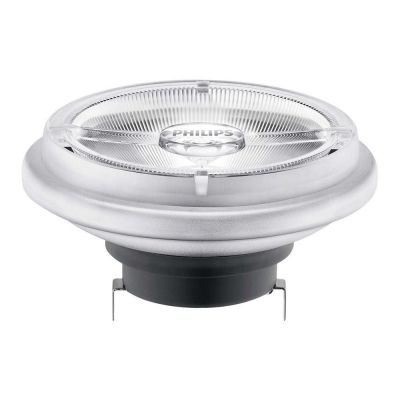 Specifications
Philips LEDspot LV G53 AR111 12V 15W 930 40D (MASTER) | Warm White - Best Colour Rendering - Dimmable - Replaces 75W
Description
Philips LEDspot LV G53 AR111 12V 15W 930 40D (MASTER) | Warm White - Best Colour Rendering - Dimmable - Replaces 75W
The Philips LEDspot LV G53 AR111 12V 15W 930 40D (MASTER) | Warm White - Best Colour Rendering - Dimmable - Replaces 75W is the perfect replacement for a conventional 75W halogen spotlight bulb that has a G53 base and a 930 - Warm White colour code. This bulb has an 'Aluminium Reflector' (AR111) shape with a diameter of 111 mm and the terminals are 53 mm apart. In rooms that are exposed to moisture, G53 LED bulbs are safer than halogen bulbs because they work on 12 volts rather than 230 volts. The lower voltage means that the use of a transformer is necessary. Suitable ones can be found under 'Accessories' on this product page. The transformer you need depends on the number of bulbs you want to connect. If you need advice, our customer service team can help you make the right choice. Changing to LED offers many advantages!
Advantages of the Philips G53 LED bulb:
You can save up to 90% on your energy and maintenance costs due to the low energy consumption of 15W and the long lifetime of 40000 hours. By comparison, traditional G53 halogen bulbs only last 3000 hours. LED bulbs don't produce much heat or emit any UV-radiation. This LED bulb has very good colour rendering with a 90-99 CRI rating. This Philips product is high quality and the price starts from as low as (excl. VAT) depending on how many bulbs are purchased. For extra peace of mind, this product is also covered by our Any-lamp.co.uk all-in-warranty of 5 Years.
If you need any advice about this product or have any other questions, don't hesitate to get in touch with our lighting experts on: !
Reviews
This product is considered Excellent based on 1 reviews of people who have bought this product.
The delivery service was quick and better than I have experienced from other suppliers!
Collected by website
Note: the reviews shown are from different sources
Reviews marked as "Collected by Trustpilot" stem from orders verified by Trustpilot.
Reviews marked as "Collected by website" are from sources other than Trustpilot.
Need help?
Contact our light specialists for free advice.