Osram SubstiTUBE Value EM 16.2 840 120cm | Cool White - incl. LED Starter - Replaces 36W
Sold out. See alternative product
See now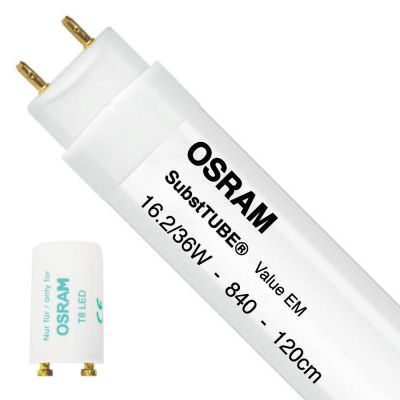 Specifications
Osram SubstiTUBE Value EM 16.2 840 120cm | Cool White - incl. LED Starter - Replaces 36W
Description
Osram SubstiTUBE Value EM 16.2 840 120cm | Cool White - incl. LED Starter - Replaces 36W
The LED tube Osram SubstiTUBE Value EM T8 is the ideal alternatives to replace the conventional tubes T8 with a G13 socket (stick shaped 27.5 mm in conventional magnetic control gear (CCG) fixtures. The color code is cool white - 4000K also known as color code 840. Please note this product is not rotatable. Extremely break-resistant thanks to the aluminium heatsink and polycarbonate cover, these LED tubes are suitable for operation at low temperatures and very resistance to switching loads. This LED tube is characterised by the high-quality of Osram and can easily replace your conventional tube with a wattage of 36W.
Areas of application
General illumination within ambient temperatures from -20°C to +45°C.
Corridors, stairways, parking garages.
Cooling and storage rooms.
Domestic applications.
Industry.
Warehouses.
Supermarkets and department stores.
Easy mounting
Disconnect the power supply,
Remove the old tube T8 from the fixture,
Install the tube LED in the fixture,
Turn on the power and start immediately to save up on energy.
Reviews
This product is considered Poor based on 1 reviews of people who have bought this product.
Collected by
Note: the reviews shown are from different sources
Reviews marked as "Collected by Trustpilot" stem from orders verified by Trustpilot.
Reviews marked as "Collected by website" are from sources other than Trustpilot.
Need help?
Contact our light specialists for free advice.