Osram SubstiTUBE LEDtube Value T8 UN 120cm 16W 840 | Cool White - Replaces 36W
Sold out. See alternative product
See now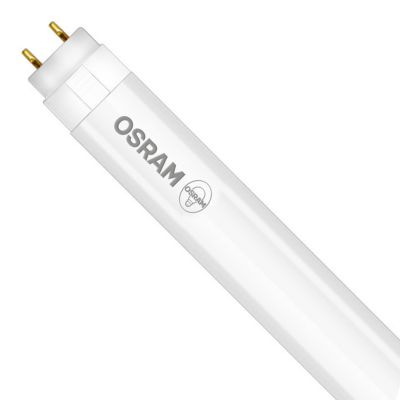 Specifications
Osram SubstiTUBE LEDtube Value T8 UN 120cm 16W 840 | Cool White - Replaces 36W
Description
Osram SubstiTUBE LEDtube Value T8 UN 120cm 16W 840 | Cool White - Replaces 36W
The Osram SubstiTUBE LEDtube Value T8 UN 120cm 16W 840 | Cool White - Replaces 36W is the perfect alternative to a standard 36W fluorescent tube for fixtures that have a ballast that's Universal (UN). This LED tube boasts excellent energy-efficiency and a long lifespan.
When changing to LED tubes, it's important to check the wattage and length of your current fluorescent tube. This 16W LED tube replaces a conventional 36W fluorescent tube with a length of 1198 mm. As soon as it's installed, you'll start saving up to 70% in energy costs compared to a fluorescent tube.
This product has a lifetime of 30000 hours. That means, in an average business environment, it will last more than 15 years (52 weeks a year, 10 hours a day from Monday to Friday). By comparison, a standard fluorescent tube only lasts 10,000 hours. For extra peace of mind, an all-in Any-lamp.co.uk warranty of 3 Years is included too.
This LED tube has a colour code of 840 - Cool White which means a colour temperature of 4000K - Cool White. That makes this LED tube suitable for lighting areas in factories and other working spaces.
You can easily install the tube yourself:
Switch off the power
Remove the old tube
Install the new LED tube
Switch on the power
Start saving on energy costs!
Reviews
No reviews for this product yet
Need help?
Contact our light specialists for free advice.