Osram SubstiTUBE Advanced UO EM 15W 865 120cm | Daylight - incl. LED Starter - Replaces 36W - Rotatable
Sold out. See alternative product
See now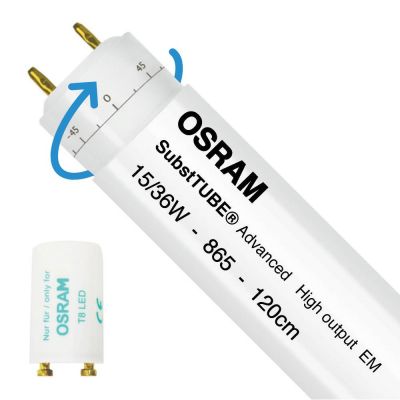 Specifications
Osram SubstiTUBE Advanced UO EM 15W 865 120cm | Daylight - incl. LED Starter - Replaces 36W - Rotatable
Description
Osram SubstiTUBE Advanced UO EM 15W 865 120cm | Daylight - incl. LED Starter - Replaces 36W - Rotatable
The Osram SubstiTUBEAdvanced is the perfect 36W replacer for fluorescent tubes in a fixture with a conventional ballast (recognizable by the fact that the fixture has a starter). You immediately save 42% on your energy costs after replacement.
This LED TL is suitable for use in offices, warehouses and other business premises. The light color is daylight (also known as 6500 Kelvin or color code 865). This lamp has a high lumen output, so you are assured of the same amount of light as you now have with a standard fluorescent lamp. The tube has a length of 120cm, equivalent to your current 36W TL.
The lifetime of an Osram SubstiTUBE is 5 times longer than a standard TL (60,000 hours compared to 10,000 hours with a normal TL). In a practical situation this means a lifetime of more than 16 years. Of course you have 5 years Any-Lamp All-in warranty on this product, this ensures you top quality and you can easily earn your investment back.
Replacing the Osram SubstiTUBE is easy:
Turn off the power
Turn the old TL out of the fixture
Turn the InstantFit LED tube into the fixture
Turn on the power and immediately save 42% energy
Reviews
This product is considered Good based on 1 reviews of people who have bought this product.
Tubes appear to be good quality, good light output, no flicker. I cannot comment on the longevity of these units. Previous led tubes, made by Energizer lasted less than one year, far less than the original fluorescent tubes, so I hope these Osram ones will be much better. If they're still working (fitted in garage) in 3 years, I'll come back and award more stars.
Collected by
Note: the reviews shown are from different sources
Reviews marked as "Collected by Trustpilot" stem from orders verified by Trustpilot.
Reviews marked as "Collected by website" are from sources other than Trustpilot.
Need help?
Contact our light specialists for free advice.