Osram SubstiTUBE Advanced HF 18.4W 830 120cm | Warm White - Replaces 36W
Sold out. See alternative product
See now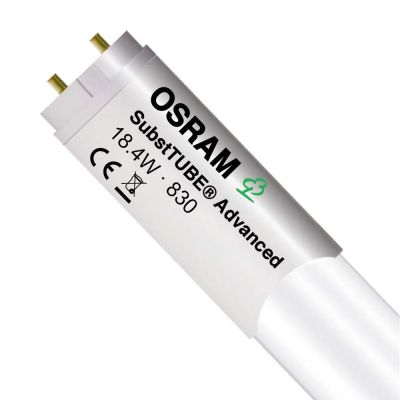 Alternatives

Specifications
Osram SubstiTUBE Advanced HF 18.4W 830 120cm | Warm White - Replaces 36W
General Information
SKU
220181
Manufacturer Name
ST8A-1.2M 18,4/830 HF
Quantity recommended
25

i

By purchasing the quantity recommended, your products will come as packaged by the manufacturer.

Any Lamp all-in warranty
5 Years

i

The Any-lamp All-in Warranty ensures that, should your product fail to work within the manufacturer's average lifetime guidelines, we will replace your product at no expense to you. The warranty is included with the price, and covers you from 1 year up to 3 and 5 years.

Energy efficiency class
A+

i

EU guidelines dictate energy labels on electronic products to represent the energy efficiency of the device. This is indicated in levels (A++ to E), with A++ being the most efficient and E the least efficient.

Average Lifetime (h)
50000
Technical Information
Technology
LED
Replaces (Watt)
36

i

Select the wattage of your conventional bulb to find the LED equivalent.

Wattage
18.4
Dimmable
No
Cap / Base
G13

i

The cap/base of a bulb is the part that connects it to the socket in the fixture. In the UK, B22 (Bayonet) caps/bases are still the most popular, although E27 (Edison screw) caps/bases are becoming increasingly popular. GU10 is the most common cap/base for spotlights. Check which cap/base you need carefully as many other types are also available.

Colour temperature (Kelvin)
3000K - Warm White

i

The colour temperature refers to the colour produced by a light. It's measured in Kelvin (K) and ranges from warm white (1700K - 3000K) to daylight white (6500K). Neutral white (3100K - 5000K) is mainly used for general lighting applications.

Colour Code
830 - Warm White

i

The colour code is a combination of the colour rendering index (CRI) and the colour temperature (K). The first number refers to the CRI (1 = very poor colour rendering, 9 = maximum accuracy). The second and third numbers refer to the colour temperature. For example, a light with a colour code of 830 has very good colour rendering and produces a warm white light.

Colour Rendering (Ra)
80-89

i

The colour rendering index (CRI) indicates how accurately colours are represented under a beam of light. The index goes from 1 to 99, with a CRI of 1 being the poorest and a CRI of 99 being the best possible. Be careful not to confuse colour rendering with colour temperature (K).

Light Output (Lumen)
2070

i

Lumen (lm) is the term used to describe the total amount of visible light emitted by a light source. The higher the number of lumens, the brighter it is.

Beam Angle (degree)
160

i

The beam angle indicates the spread of the light in degrees. Small beam angles are preferred for accent lighting, while larger beam angles are for general lighting purposes.

Housing
Plastic
Sensor Included
No

i

A light with a sensor can turn on automatically. Depending on the sensor it has, this can be whenever it detects motion or a lack of light, or both.

Luminous Efficacy (Lm/W)
112

i

The lumen to watt ratio indicates the the efficiency of the bulb in terms of how much light is output per watt of energy consumed. An LED bulb emits more than 100 Lm/W, while an incandescent bulb typically has an efficiency of 10 Lm/W.
Lamp Information
EAN
4052899943032
LED Starter included
No
Ballast
Electronic (HF)

i

Ballast is a term that designates a device to reduce the electrical current, it allows for example to power your source in 12V with a native voltage of 220V. There are two types of ballasts: ferromagnetic (or conventional) ballast and electronic ballast. The ferromagnetic ballast requires a starter made unnecessary for an electronic ballast.

Features
Simple and Safe Replacement for Fluorescent Tube Without Rewiring
Dimensions
| | | |
| --- | --- | --- |
| Length | 120cm | |
| Length (mm) | 1200 | |
| Diameter (mm) | 27.5 | |
| Exact shape | T8 | |
Description
Osram SubstiTUBE Advanced HF 18.4W 830 120cm | Warm White - Replaces 36W
Osram SubstiTUBE Advanced EM T8 is the ideal alternative to replace a conventional tube T8 with a G13 socket (stick shaped 27.3 mm) in conventional magnetic control gear (CCG) fixtures. Extremely break-resistant thanks to the aluminium heatsink and polycarbonate cover, this LED tube is suitable for operation at low temperature and very resistance to switching loads. This LED tube is characterised by the high-quality of Osram and can easily replace your conventional tube with a wattage of 36W. Suitable for operation with low-loss and conventional control gears, this LED tube is available in length 120cm and ideal for standard lighting task in warm white (3000K).
Reviews
No reviews for this product yet